This little stand-alone search and replace utility is very handy if you need to make changes to a whole range of text, HTML, XML or other text-based files: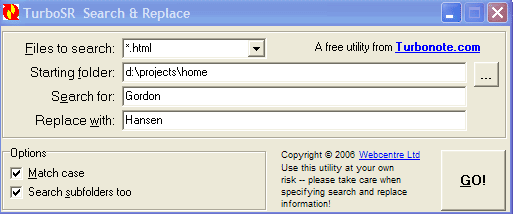 TurboSR can search one or more folders on your computer for specific files (e.g. *.htm) and show you the existing text in context, allowing you to accept or skip changes as you see fit: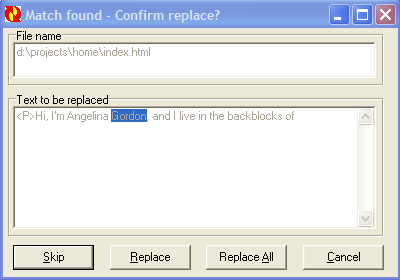 Used wisely, it can save you hours of work and typing mistakes.
Download a copy today (350KB).
No need to install TurboSR — just save it whereever you like, then run it from that location. The first time you run TurboSR, it will create a shortcut in your Start menu's Accessories folder.
TurboNote v6
Check out the latest version of TurboNote+ onscreen sticky notes:
Calendar to organise your daily schedule
Note Manager to manage notes more efficiently
Rich text editing, note templates and styles
One-keystroke image capture
Images and backgrounds on notes
Bullets, tickable checkboxes and emoticons
Password-protected notes
One-click access to Google search, currency conversion and translation
Notes can automatically appear when a particular document or URL is opened
Enhanced note transmission, including scheduled transmission
And much more
Discounts for registered users