It's amazing. It keeps me so organized. I work on a computer all day so I can see important information when I want and where I want, and colour-coded on my screen!
I find the colour-coding really helpful — red notes for the things I *really* have to do, yellow for general, green for notes to or for the children.
I keep a set list of things I have to do each day, each week, each month. It keeps me organised, and the alarm system reminds me if I do forget. It also makes it easier if I'm away to tell my sub to check the green "on-going" notes. They've got links to all the admin and help files that explain what needs to be done.
I set the alarm to remind me of when I need to pay bills, when important dates are coming up (like my kid's birthday or tax return time), and things I want to check on later. Then I hide them so they don't clutter up my screen, and they pop-up only when I need to see them.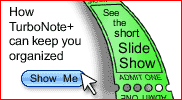 Powerpoint-based slideshow
Use PageDown to step through
I love it!!! I use it to jot down notes when I talk to sales prospects on the phone and when I call them back I have down in front of me exactly what interests the client has and can continue from there.
"Terrific!" I installed it, five minutes later I knew I couldn't do without it. Now everyone in the office uses it, and we send notes back and forth — way quicker and easier than email!
It's easier to send a TurboNote to the computer upstairs than to go up myself!
When I'm copying and pasting stuff from one type of file to another, like a Word document to an HTML file, I put it on a TurboNote to reformat it to get rid of hard characters and returns.
I actually use the calculator function more than anything else cos I keep losing the real one I have and can never remember where to find the computer's calculator.
These notes are so wonderful it is virtually impossible to think of an improvement or how I ever managed without them. Excellent tool for my writing projects, plotting, planning outlines.