Quick Tips to Get the Best out of TurboNote+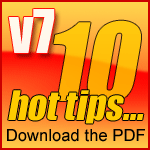 Everyone has their favorite TurboNote+ trick to save time and money.
We've asked our users what things they find the handiest, and sometimes their answers surprise us.
So here are the current tips sheets designed to help you get the most out of TurboNote+ — some ideas you'll think are completely obvious, others will make you smack your head ("why didn't I think of that?") or sigh with relief at another problem catered for.
The tips sheets are in PDF form; if you don't have the Adobe Acrobat reader, download it free from here.
Top 10 Tips for TurboNote+ 7.0
New versions mean new tips, and the improvements in v7.0 are no exception:
Download the v7 PDF now
Top 10 Tips for TurboNote+ 6.0
Our earlier v6 releases had many improvements as well, generating the following tip sheet (note - tip #1 only applies to WinXP or earlier):
Download the v6 PDF now
TurboNote+ Top 10 Tips
For general tips which apply to all versions of TurboNote+, take a look at this tip sheet:
Download the PDF now
Share a Tip
If you've got a particular favorite hot key or use for TurboNote+, we'd be delighted to hear from you.
Let us know.