Bridge time and space with
TurboNote+ Relay Server
TurboNote+ Relay Server (TRS) adds to TurboNote+'s built-in communications. It bridges time and space, passing your TurboNote-based messages from machine to machine, office to office, even if they are continents or time-zones apart.
It helps people on shifts or flexitime keep in touch, and bypasses increasingly clogged email systems for instant communication.
If you want to use it with just two TurboNote+ computers, you can download a free copy of TRS Personal. Or purchase TRS Office to support more connections, or multiple offices.
TRS offers these benefits to TurboNote+ users:
Notes are queued centrally and retries handled automatically. Thus, if you send your colleague a note and their machine is unavailable, TRS will hold the note and send it when their machine comes online again — even if you have switched off and gone home by then. When you switch on the next day, their reply can appear right there on your desktop.
It acts as a bridge, relaying notes through one or more firewalls. By doing this, it seamlessly links colleagues, offices or departments which might be miles or even continents apart
You can send a note to named groups of users to save time and trouble when sending staff bulletins, broadcasts and other company-wide messages.
Optionally keep an archive of all the messages which TRS processes.
TRS allows network administrators to quickly and easily establish groups and security rules to improve and safeguard communication flow.
How does it work?
Here's an example of how TRS can connect three different offices in three different locations, allowing notes to be passed freely.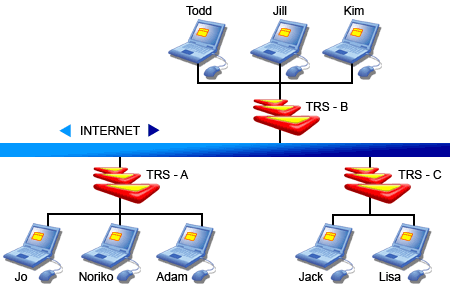 Jo can send a note from her computer to Adam's using the local network.
If Jo and Lisa's systems are connected via a remote network, TRS would let them exchange notes. So long as machines on both networks can access the TRS server, they can exchange notes, even though individual machines on each private network cannot directly "see" computers on the other network.
In more complex cases (for example, where both networks are behind their own firewalls), messages can be passed through a chain of two or more TRS servers to reach their destination.
Extra help available
When you purchase a TRS license, you will receive a free copy of the TurboNote+ Advanced User Guide. This 46-page PDF manual provides extensive technical information aimed at making life easy for the network administrator.
Our FAQ can help, and our friendly, responsive help staff can assist with any requests, from beginner queries to ultra-technical detail.
How do I get it?
TRS is available in two editions, the first of which is free for personal use:
TRS Personal (FREE) which can connect two TurboNote+ computers (through a firewall if necessary), including queueing and retry management. It can be installed or daisy-chained on as many machines as you wish. Go ahead and download it now using the form below.
TRS Office (starting at $US49.97 for a five-connection license) which adds support for more connections, IP-based security filtering (Allow notes, Allow notes but not attachments, Forbid notes), remote configuration, archiving, event logging and queue management. It also comes with a free copy of the TurboNote+ and TRS Advanced User Guide.
Download TRS Personal Edition
You have chosen the wrong word for Validation please type in the 3rd word
To download the free TRS Personal edition, please complete this form: