How does TurboNote Sponsorship work?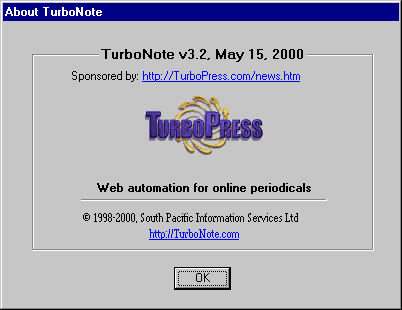 Give away a really useful 5 star piece of software and bring your name before an ever-growing market — that's what sponsoring our freeware TurboNote (version 3.x) product will do for you. It acts as a self-propagating marketing campaign.
In every copy of your TurboNote program, your Web address appears regularly, encouraging users to click through to your site. TurboNote is easy to operate and very handy to have and, being free to distribute, it will spread among friends, colleagues, offices and organisations. As the product spreads, so does your name and your potential customer base.
As a TurboNote sponsor, you get a customized version of TurboNote which you can freely distribute far and wide. Your logo, URL and catchphrase are showcased in the "About TurboNote" dialog box. What's more, your chosen URL will appear from time to time at the bottom of notes generated by the software, reminding users of you and giving them a direct route to your Web site.
This is not an annoying "nag message" that interrupts and aggravates users, but a simple hot-linked line of text that sits quietly on the bottom of the note until the user clicks on it. Unlike an ordinary sponsor's credit or logo, your TurboNote URL provides both an invitation and a reward for action — when they click through to your site, the URL on the end of that note will go away; it will also appear less frequently each time they click through.
Send out TurboNote to your target market and encourage them to pass it on. Users will come back to your site, drawn by your click-through sponsorship line, but you won't have any support hassles — we provide a full inquiry and user support service on our site.
A unique selling proposition!
Promote
Act
Inform
Order!
Your URL sits onscreen.
Users see it regularly.
Great name and site recognition!
Users visit your site.
Their action is rewarded because the URL appears less often.
Use news as a drawcard.
Link to changing, interesting, special pages.
Sell products, services, "image" or advertising space at your site
TurboNote offers hassle-free promotion that will spread by itself as users pass on free copies to friends and colleagues. Rather than your URL being lost in a long list of bookmarks or search engine results, TurboNote will continually put it in front of people you've targeted — people interested in your product, services or field of expertise.
Choose which part of your Web site you want to boost with TurboNote "hits". It could bring visitors to your Home page, or you can be more proactive by showing them a special page with interesting news and features that will encourage them to visit again — maybe the very next time they see your URL appear on a TurboNote.
Sponsorship types and costs
There are TWO kinds of sponsorship — primary and secondary. A secondary sponsor is one who has their name and URL added to a previously-sponsored version of TurboNote and then distributes it themselves. The benefit for a secondary sponsor is a lower price; the benefit to a primary sponsor in permitting secondary sponsorship of their version is the wider distribution of their name and URL (beyond their own immediate contacts). Only the primary sponsor's information is shown in the TurboNote About Box, but both sponsors' URLs appear equally often as note captions.
Primary
Turbonote sponsorship costs $US795.00 and entitles you to:
a branded copy of TurboNote, distributable freely and indefinitely (so long as you don't change the sponsorship information)
our online support services for dealing directly with any user problems
free use of the TurboNote logo, graphics and introductory Web page adapted from our site
the option to choose whether or not secondary sponsors will be permitted to brand and hence widen the distribution of your sponsored version of TurboNote
Secondary
Turbonote sponsorship costs $US295.00 and entitles you to the same options as for a primary sponsor except that your version will show the primary sponsor's name and URL in the About Box, and the primary sponsor's URL will appear on note captions as often as yours does.
Either primary or secondary sponsorship will bring traffic to your site far into the future for just a fraction of the cost of regular site promotion services, and with no extra work on your part.
IMPORTANT NOTE: Sponsorships are always on offer only for the current version of TurboNote. Continuing or new sponsorships for future versions are always at our discretion.
How do I order?
Use our secure order form to send us the following information:
the complete URL you want to promote
your logo(s) (emailed to us — composition details are on the order form)
a 25-character catchphrase describing your company, product or site
You can pay by Visa or Mastercard using the order form on our secure or regular Web server.
We will also accept pre-payment via bank drafts and telegraphic transfers — please email us for details.
I want to order my TurboNote Sponsorship now!
Any Questions?
If you have any further questions you'd like answered before sponsoring your own copy of TurboNote, we'd be happy to help you. Please email support@TurboNote.com and we'll respond within three working days.